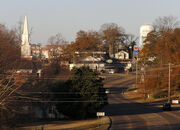 Philadelphia
is a city and the county seat of Neshoba County,
Mississippi
. It's place in history was cemented in 1964, when
three civil rights workers were murdered
just outside the town after spending hours in custody in Philadelphia proper. Local law enforcement officials played an active role in the murders.
In his recurring nightmare, former deptuty Cecil Price dreamed of being murdered along with two Black Muslims near Philadelphia, much as Price and certain colleagues had facilitated the murder of the three civil rights workers in real life.
Ad blocker interference detected!
Wikia is a free-to-use site that makes money from advertising. We have a modified experience for viewers using ad blockers

Wikia is not accessible if you've made further modifications. Remove the custom ad blocker rule(s) and the page will load as expected.