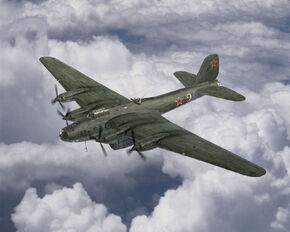 The Petlyakov Pe-8 was a Soviet heavy bomber designed before World War II, and the only four-engine bomber the USSR built during the war. Produced in limited numbers, it was used to bomb Berlin in August 1941. It was also used for so-called "morale raids" designed to raise the spirit of the Soviet people by exposing Axis vulnerabilities. Its primary mission, however, was to attack German airfields, rail yards and other rear-area facilities at night, although one was used to fly the People's Commissar of Foreign Affairs (Foreign Minister) Vyacheslav Molotov from Moscow to the United States in 1942.
By the end of the war, most of the surviving aircraft had been withdrawn from combat units. After the war, some were modified as transports for important officials, and a few others were used in various Soviet testing programs. Some supported the Soviet Arctic operations until the late 1950s.
The
Pe-8
made history in January 1941, when a squadron of them, flying out of
Murmansk
, bombed the
Royal Navy
base of
Scapa Flow
, and withdrew before they could be shot down.
Ad blocker interference detected!
Wikia is a free-to-use site that makes money from advertising. We have a modified experience for viewers using ad blockers

Wikia is not accessible if you've made further modifications. Remove the custom ad blocker rule(s) and the page will load as expected.