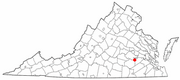 Petersburg
is a city in
Virginia
, near
Richmond
. It was the site of intense, drawn out fighting during the latter part of the
American Civil War
.
When John Houston Thorpe arrived in the afterlife, he found himself in a reenactment of the Siege of Petersburg. Specifically, the Second Battle of Reams Station in late August 1864, where his side defeated the Yankees.
After Richmond fell to the United States Army, Confederate President Jake Featherston briefly moved the seat of government to Petersburg.
Ad blocker interference detected!
Wikia is a free-to-use site that makes money from advertising. We have a modified experience for viewers using ad blockers

Wikia is not accessible if you've made further modifications. Remove the custom ad blocker rule(s) and the page will load as expected.