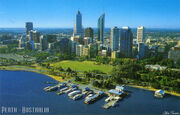 Perth is the capital and largest city of the Australian state of Western Australia. It is the fourth most populous city in Australia.  Perth was originally founded by Captain James Stirling in 1829 as the administrative centre of the Swan River Colony, and gained city status in 1856. The city is named for Perth, Scotland, by influence of Sir George Murray, the British Secretary of State for War and the Colonies.
Perth was the home city of Australian student Andrea Dubois.
Ad blocker interference detected!
Wikia is a free-to-use site that makes money from advertising. We have a modified experience for viewers using ad blockers

Wikia is not accessible if you've made further modifications. Remove the custom ad blocker rule(s) and the page will load as expected.