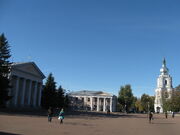 Pereiaslav-Khmelnytskyi
is an ancient city in the Kiev Oblast (province) of central
Ukraine
, located on the confluence of Alta and Trubizh rivers some 95 km (59.03 mi) south of the nation's capital
Kiev
. Until 1943, the city was known as
Pereyaslav
.
After the German military regrouped at Dynamo Stadium in Kiev, they were sent south to Perayaslav, a trip that took the rest of the day and all night thanks to the lack of paved roads and bomb damage from the Chinese. They even came under attack a few times.[1] The German troops were actually overrun and defeated not long after establishing a skirmish line outside Perayaslav.
References
Edit
Ad blocker interference detected!
Wikia is a free-to-use site that makes money from advertising. We have a modified experience for viewers using ad blockers

Wikia is not accessible if you've made further modifications. Remove the custom ad blocker rule(s) and the page will load as expected.