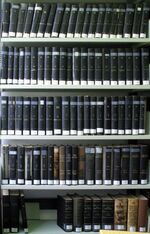 The
Realencyclopädie der Classischen Altertumswissenschaft
, commonly called the
Pauly–Wissowa
or simply
RE
, is a
German
encyclopedia of classical scholarship. With its supplements it comprises over eighty volumes.
The first volume was published by August Pauly in 1839. Pauly died in 1845, his work unfinished; Christian Waltz and Wilhelm Teuffel completed it in 1852. This first edition comprised six volumes. A second edition was worked on from 1861 and 1866, but never finished.
In 1890 Georg Wissowa started on a new and more ambitious edition. He expected to be done in 10 years, but the last of its 83 volumes did not appear until 1978, and the index volume came out in 1980.
Each article was written by a recognized specialist in the relevant field, but unsurprisingly for a work spanning three generations, the underlying assumptions vary radically with the age of the article. Many early biographies were written by Friedrich Münzer.
As a professor of Ancient History, Samuel Goldman had contributed to Pauly-Wissowa. After the passage of the Nuremberg Race Laws, he no longer could, nor teach, but continued to earn an income by writing articles that were submitted by Aryan colleagues under their own names. Professor Friedrich Lauterbach was the most helpful, as he didn't keep any of the fee for himself as some had. Sadly, this arrangement ended when Lauterbach was called up for military service.[1]
References
Edit