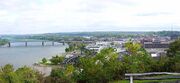 Parkersburg
is a city located in Wood County,
West Virginia
, at the confluence of the
Ohio
and Little Kanawha Rivers. It is the county seat of Wood County. As of the 2000 census, the city had a total population of 33,099, making it the third-largest city in West Virginia.
Parkersburg was the first town Beckie Royer, Myrtle Bentley and Uncle Luke passed through when they entered Virginia. It had once been a major oil town, but that had ended decades before.
During the Ohio-Virginia War of 2097, Ohio used a fuel-air explosive on the heart of the city. The explosion could be heard in Elizabeth.
Nonetheless, most of the infrastructure survived. During the subsequent virus attack, most of the sick from nearby Elizabeth were taken to the hospital in Parkersburg, including Ethel Snodgrass.
When Ohio troops finally invaded Virginia, Parkersburg fell first.
In 1942 Brigadier General Irving Morrell launched a second major attack against the Confederate flank from Parkersburg, West Virginia, in addition to his primary attack from Meadville, Pennsylvania. On the first day, the U.S. forces met stiff but ineffectual resistance from the Mexican Army defending the Confederate center. After breaking through this "crust" the U.S. met little further resistance and the two forces linked up in Lafayette, Ohio and thus surrounded the main Confederate Army in Pittsburgh.