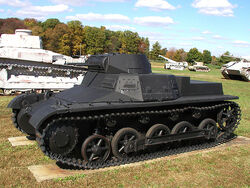 The Panzer I was a light tank produced in Germany in the 1930s. The name is short for the German Panzerkampfwagen I (armored fighting vehicle mark I), abbreviated PzKpfw I.
Intended only as a training tank to introduce the concept of armored warfare to the German Army, the Panzer I saw combat in Spain during the Spanish Civil War, in Poland, France, the Soviet Union and North Africa during the Second World War, and in China during the Second Sino-Japanese War. Experiences with the Panzer I during the Spanish Civil War helped shape the German armored corps' invasion of Poland in 1939 and France in 1940.
The Panzer I made up the bulk of the German tank force when war broke out in Europe. Although it was never intended to see battle, they were thrown into the fight because they were all Germany had. Little more than an armoured machine-gun carrier, Panzer I's made up the majority of panzer casualties during the invasions of Czechoslovakia and France.
Ad blocker interference detected!
Wikia is a free-to-use site that makes money from advertising. We have a modified experience for viewers using ad blockers

Wikia is not accessible if you've made further modifications. Remove the custom ad blocker rule(s) and the page will load as expected.