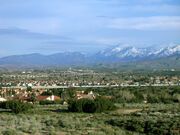 Palmdale
is a city located in the center of northern Los Angeles County,
California
,
United States
. It is separated from the city of
Los Angeles
by the San Gabriel Mountain range.
Palmdale was the first community within the Antelope Valley to incorporate as a city on August 24, 1962; 47 years later, in November 2009, voters approved creating a charter city. Palmdale's population was 152,750 at the 2010 census, up from 116,670 as of the 2000 census.
Junipero Middle School was located in Palmdale, California. One morning in 2013, its eighth-grade history class visited Anne Berkowitz at the Hebrew Home for the Aging in the nearby San Fernando Valley to hear her experiences during World War II and surviving the Holocaust.
Ad blocker interference detected!
Wikia is a free-to-use site that makes money from advertising. We have a modified experience for viewers using ad blockers

Wikia is not accessible if you've made further modifications. Remove the custom ad blocker rule(s) and the page will load as expected.