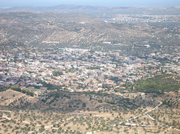 Paiania
(Greek: Παιανία) is a town and a municipality in East Attica,
Greece
. It is an eastern suburb of
Athens
, located east of Mount Hymettus. It is 11 km east of Athens' city centre. In
Ancient Greece
, Paiania was part of the Athenian city-state.
Paiania was the hometown of Phye, the farmer's daughter who was recruited by Peisistratos the Tyrant to play the role of Athena in his triumphal parade.
Ad blocker interference detected!
Wikia is a free-to-use site that makes money from advertising. We have a modified experience for viewers using ad blockers

Wikia is not accessible if you've made further modifications. Remove the custom ad blocker rule(s) and the page will load as expected.