PIAT
Talk

0
6,127pages on
this wiki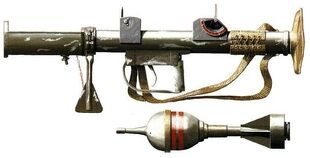 The Projector, Infantry, Anti Tank (PIAT) was a British hand-held anti-tank weapon developed during the Second World War. The PIAT was designed in 1942 in response to the British Army's need for a more effective infantry anti-tank weapon, and entered service in 1943.
The PIAT was based on the spigot mortar system, that launched a 2.5 pounds (1.1 kg) bomb using a powerful spring and a cartridge on the tail of the projectile. It possessed an effective range of approximately 115 yards (110 m) in a direct fire anti-tank role, and 350 yards (320 m) in an indirect fire 'house-breaking' role.
The PIAT was first used against the Race during their Invasion of England in 1943. Although not highly thought off by Race Landcriuser crews when compared with the German counterpart, as even at short range it couldn't penetrate the side armour of Landcruisers, it still didn't make the campaign in England any easier as it was more than effective against Troopcarriers.