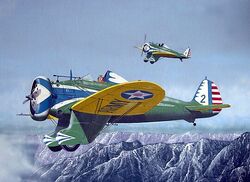 The Boeing P-26 Peashooter was the first American all-metal production fighter aircraft and the first pursuit monoplane used by the United States Army Air Corps. Designed and built by Boeing; the prototype first flew in 1932, and the type was still in use with the U.S. Army Air Corps as late as 1941 in the Philippines.
Although obsolete, the P-26 Peashooter was still used by the Army Air Force in the Philippines in 1940. When Japan invaded the country in early 1941, the fighter proved no match for the newer Japanese fighters.
Ad blocker interference detected!
Wikia is a free-to-use site that makes money from advertising. We have a modified experience for viewers using ad blockers

Wikia is not accessible if you've made further modifications. Remove the custom ad blocker rule(s) and the page will load as expected.