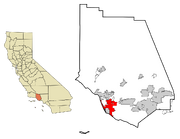 Oxnard
is a city in the
United States
, located along the coast of Southern
California
. It is the 19th most populous city in California and the most populous in Ventura County. The city lies approximately 35 miles west of the
Los Angeles
city limits, and is part of the larger Greater Los Angeles area. The population of Oxnard is 203,585 as of the 2012 Financial Report. Oxnard is the most populous city in the Oxnard-Thousand Oaks-Ventura, CA Metropolitan Statistical Area, which is listed as one of the wealthiest areas in America, with its residents making well above the average national income. In 2013, Oxnard was ranked as one of the safest cities in America with violent crime rates well below the national average.
In June 2004, the Oxnard Police Department and the Ventura County Sheriff imposed a gang injunction over a 6.6-square-mile (17 km2) area of the central district of the city, in order to restrict gang activity. The injunction was upheld in the Ventura County Superior Court and made a permanent law in 2005. A similar injunction was imposed in September 2006 over a 4.26-square-mile (11.0 km2) area of the south side of the city.
When Squirt Frog and the Evolving Tadpoles played in New York, Justin Nachman found a positive review of the band in The New Yorker's "Night Life - Rock and Pop" section. It said, in part "... bring a musical sensibility that mixes Cowboy Bebop with Bebop Deluxe from Oxnard, California, to Manhattan." Aside from the disgust the band felt with being identified with the grimy, working-class town of Oxnard, Rob Ferguson didn't think you could mix animé with a 1970s British band. Instead, the writer was probably trying to be cute.[1]
Ad blocker interference detected!
Wikia is a free-to-use site that makes money from advertising. We have a modified experience for viewers using ad blockers

Wikia is not accessible if you've made further modifications. Remove the custom ad blocker rule(s) and the page will load as expected.