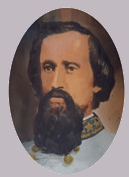 Otho the Troll
was an officer in
"King" Geoffrey's
army during the
Detinan Civil War
. He commanded a brigade in the
Army of Franklin
, a brigade which included
Florizel
's regiment from
Palmetto Province
. Like many of his colleagues, he chafed under the command of
General Bell
, who gave reckless orders and then blamed his subordinates for their failure. After being accused of cowardice by Bell before the Battle of
Ramblerton
, Otho the Troll sought to redeem himself by not shying away from danger, and as a result, he was killed.
Literary Comment
Edit
Otho is based on Confederate Brigadier General Otho F. Strahl.
Ad blocker interference detected!
Wikia is a free-to-use site that makes money from advertising. We have a modified experience for viewers using ad blockers

Wikia is not accessible if you've made further modifications. Remove the custom ad blocker rule(s) and the page will load as expected.