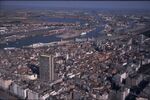 Ostend
, also spelled
Oostende
or
Ostende
, is a port city and municipality in the province of West Flanders,
Belgium
. Its population was 70,284 at the 2013 census.
In the winter of 1598, Lope de Vega purchased passage to Ostend, Spanish Netherlands on Captain Adams' ship Oom Karl. De Vega had just been released from a makeshift prisoner-of-war camp in the Southwark bear-baiting arena with the help of William Shakespeare and purchased his passage with part of a pound of gold Shakespeare had anonymously given him.
Ad blocker interference detected!
Wikia is a free-to-use site that makes money from advertising. We have a modified experience for viewers using ad blockers

Wikia is not accessible if you've made further modifications. Remove the custom ad blocker rule(s) and the page will load as expected.