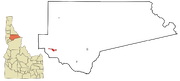 Orofino
("
fine gold
" [ore] in
Spanish
) is a city in Clearwater County,
Idaho
, along Orofino Creek and the north bank of the Clearwater River. The population was 3,142 at the 2010 census, and the city is the county seat of Clearwater County.
Roy Schurz was the Police Chief in Orofino, Idaho when the Yellowstone Supervolcano erupted. As a favor to his buddy Colin Ferguson, he went to Missoula, Montana to get Ferguson's stranded girlfriend Kelly Birnbaum back home to Berkeley, California.[1]
Ad blocker interference detected!
Wikia is a free-to-use site that makes money from advertising. We have a modified experience for viewers using ad blockers

Wikia is not accessible if you've made further modifications. Remove the custom ad blocker rule(s) and the page will load as expected.