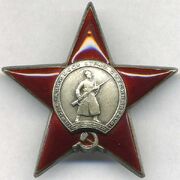 The Order of the Red Star (Russian: Орден Краснoй Звезды) was a military decoration for bravery of the Soviet Union. It was awarded to soldiers of the Soviet Army, Navy, border and internal security forces, employees of the State Security Committee of the USSR, as well as NCOs and officers of the bodies of internal affairs; to units, warships, associations, enterprises, institutions and organizations; as well as to military personnel of foreign countries.
Lt. Anastas Mouradian of the Air Force was awarded the Order of the Red Star for bravely and single handedly shooting down a Do 17 "Flying Pencil" with his Pe-2. He wished it meant more to him, but found that it mostly felt like a good-luck charm, that might give him the benefit of the doubt if the NKVD ever became interested in him.[1]
References
Edit
Ad blocker interference detected!
Wikia is a free-to-use site that makes money from advertising. We have a modified experience for viewers using ad blockers

Wikia is not accessible if you've made further modifications. Remove the custom ad blocker rule(s) and the page will load as expected.