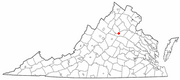 Orange
is a town in, and county seat of, Orange County,
Virginia
,
United States
. The population was 4,721 at the 2010 census, representing a 14.5% increase since the 2000 census. Orange is 28 miles northeast of Charlottesville, 88 miles southwest of
Washington, D.C.
, and 4 miles east of
James Madison
's plantation of Montpelier.
Founded around 1750, the town was known in the 18th and 19th centuries as Orange Court House.
Orange Court House was where the Army of Northern Virginia received the first shipment of AK-47s from the Rivington Men. These weapons would ensure Confederate victory in the Second American Revolution.
Ad blocker interference detected!
Wikia is a free-to-use site that makes money from advertising. We have a modified experience for viewers using ad blockers

Wikia is not accessible if you've made further modifications. Remove the custom ad blocker rule(s) and the page will load as expected.