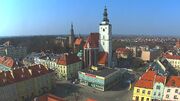 Oleśnica
is a town in Lower Silesian Voivodeship, in south-western
Poland
. During the Middle Ages, it was
Germanised
as
Oels
. After
World War I
, Öels was included within the Province of Lower Silesia. It was heavily damaged by the
Red Army
in 1945 during
World War II
, with approximately 60-80% of its buildings destroyed. The city was placed in Poland's borders after the Potsdam Conference and its original name was restored. The remaining German-speaking population was subsequently expelled and the city resettled with
Poles
, many of whom had been expelled from Eastern Poland, which in turn had been annexed in 1945 by the
Soviet Union
. From 1975–1998 it was in former Wrocław Voivodeship. It is the administrative seat of Oleśnica County and also of the rural district of Gmina Oleśnica, although it is not part of the territory of the latter, the town being an urban
gmina
in its own right.
After the Race concentrated their forces in the city, Oels was destroyed in 1943 by the first German explosive-metal bomb used in warfare. In retaliation, the Race destroyed Muenchen.[1]
References
Edit
Ad blocker interference detected!
Wikia is a free-to-use site that makes money from advertising. We have a modified experience for viewers using ad blockers

Wikia is not accessible if you've made further modifications. Remove the custom ad blocker rule(s) and the page will load as expected.