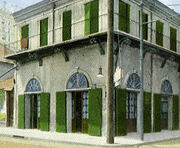 The
Old Absinthe House
is a bar in
New Orleans
's French Quarter, located in a two-story building at the corner of Bourbon and Bienville. The building was erected in 1806 as a dry goods store. In 1815, a saloon was established in the first floor called "Aleix's Coffee House", which became "The Absinthe House" in 1874. It was first called "the Old Absinthe House" in about 1890. The building and the bar survived Prohibition, and has recently undergone substantial restoration. It continues as a popular tourist attraction and functional bar to this date.
Historical rumor has it that in 1814, Andrew Jackson and Jean Lafitte planned the defense of New Orleans against the British in the bar. Lafitte's ghost allegedly still haunts the building to this day. A number of celebrities have also visited the bar in the last two centuries.
In August 1942, FBS Neil Michaels visited the Original Absinthe House as part of an investigation into an uprising against the United States. He was given contact information by the stripper, Lucy. The following night, the Original Absinthe House was torched as a warning to anyone who helped Michaels or the federals in their investigation. Lucy was among the dead.
Literary Comment
Edit
The name "Original Absinthe House" is apparently unique to "Must and Shall."
Ad blocker interference detected!
Wikia is a free-to-use site that makes money from advertising. We have a modified experience for viewers using ad blockers

Wikia is not accessible if you've made further modifications. Remove the custom ad blocker rule(s) and the page will load as expected.