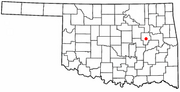 Okmulgee
is a city in Okmulgee County,
Oklahoma
,
United States
. It is the county seat of Okmulgee County. The town has been the capital of the
Creek Nation
since the
American Civil War
. Okmulgee means "boiling waters" in the Creek language. The site was chosen because of the nearby rivers and springs.
Okmulgee was a city in Sequoyah. During the Great War, Confederate troops were thrown back into Okmulgee. Creek political leader Charlie Fixico persuaded the senior officer, Captain Hiram Lincoln to stand and fight. The Confederate Cavalry and local Creek warriors beat off the Unites States' poorly-prepared attack.
With this success, the Creek were no longer content with holding off the under-resourced U.S. as they had throughout most of 1915. They decided that they wanted all their pre-war territory back, and ordered the Creek Army to retake US positions around Beggs. Despite misgivings voiced by the Confederate troops, the substantial political clout the Creek had in Richmond won out. The resulting offensive prooved to be a disaster for the Creeks and the Confederates alike.
Ad blocker interference detected!
Wikia is a free-to-use site that makes money from advertising. We have a modified experience for viewers using ad blockers

Wikia is not accessible if you've made further modifications. Remove the custom ad blocker rule(s) and the page will load as expected.