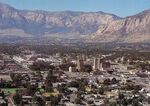 The city of
Ogden
is the county seat of Weber County,
Utah
,
United States
, approximately 10 miles (16 km) east of the
Great Salt Lake
and 40 miles (64 km) north of
Salt Lake City
. The population was 84,316 in 2014, according to the US Census Bureau.
Ogden was the last stronghold of the insurgents during the Great War Mormon uprising. Mormon leader Heber Louis Jackson surrendered there to US General Alonzo Kent in 1915.
Ad blocker interference detected!
Wikia is a free-to-use site that makes money from advertising. We have a modified experience for viewers using ad blockers

Wikia is not accessible if you've made further modifications. Remove the custom ad blocker rule(s) and the page will load as expected.