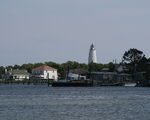 Ocracoke Island
is an island that is part of the Outer Banks of the State of
North Carolina
. It can only be reached by one of three public ferries (two of which are toll ferries), private boat, or private plane. The village of Ocracoke lies on the southern end of the island.
Ocracoke Island was the site of a Confederate Y-range station early in the Second Great War. A detachment of United States Marines under the command of Major Mike Murphy was successfully dispatched to destroy the station in 1942.
Ad blocker interference detected!
Wikia is a free-to-use site that makes money from advertising. We have a modified experience for viewers using ad blockers

Wikia is not accessible if you've made further modifications. Remove the custom ad blocker rule(s) and the page will load as expected.