Nuevo León
Talk

0
6,140pages on
this wiki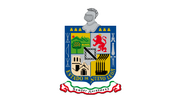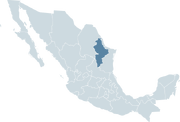 Nuevo León
is a state located in northeastern
Mexico
. It borders the states of
Tamaulipas
to the north and east, Zacatecas and San Luis Potosí to the south, and Coahuila to the west. To the north, Nuevo León accounts for a 15 kilometer (9 mi) stretch of the
U.S.
-Mexico border adjacent to the U.S. state of
Texas
.
Nuevo León was the home of a Race airbase located near Monterrey. After the arrival of the Colonization Fleet, Nuevo León saw the establishment of a Race town the San Juan River.
Rance Auerbach and Penny Summers headed to the airbase to sell ginger to a Lizard named Kahanass. This was actually a trap, and all three were arrested by the Race.
Nuevo León was a province of Nueva España.[1]
References
Edit
Mexico Political Divisions

States

Aguascalientes · Baja California · Baja California Sur · Campeche · Chiapas · Chihuahua · Coahuila · Colima · Durango · Guanajuato · Guerrero · Hidalgo · Jalisco · México · Michoacán · Morelos · Nayarit · Nuevo León · Oaxaca · Puebla · Querétaro · Quintana Roo · San Luis Potosí · Sinaloa · Sonora · Tabasco · Tamaulipas · Tlaxcala · Veracruz · Yucatán · Zacatecas

Federal District