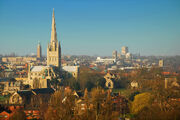 Norwich
is a city in Norfolk, East Anglia which is in Eastern
England
. It is the regional administrative centre and county town of Norfolk. During the 11th century Norwich was the second largest city in England, and one of the most important places in the kingdom. It has since been eclipsed, but still plays an important role in the
United Kingdom
.
Norwich was one of two British cities destroyed by Soviet atomic bombs on 1 February 1951, in retaliation for American nuclear attacks on Manchurian cities on 23 January.[1]
The Army and Scotland Yard immediately cordoned off the city, in part to help them deal with the devastation and in part to keep away sightseers.[2]
In 1944, Norwich was one of three British cities destroyed on the same day by German superbombs.[3]
References
Edit