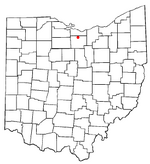 Norwalk
is a city in Huron County in the state of
Ohio
. The population was 16,238 at the 2000 census. It is the county seat of Huron County.
Norwalk was the last town of any size south of Sandusky. General Abner Dowling made his headquarters there during the U.S. retreat as a result of Operation Blackbeard.
Colonel Irving Morrell visited him here to try to get more barrels to stage a counter-attack but was unsuccessful as Dowling didn't have any to give him. Part of the problem was Confederate bombing and sabotage which delayed rail delivery. Morrell suggested that the barrels be driven down from Pontiac to avoid the bottlenecks. Dowling agreed to try it.
Ad blocker interference detected!
Wikia is a free-to-use site that makes money from advertising. We have a modified experience for viewers using ad blockers

Wikia is not accessible if you've made further modifications. Remove the custom ad blocker rule(s) and the page will load as expected.