North Carolina
Talk

0
6,139pages on
this wiki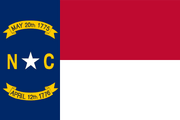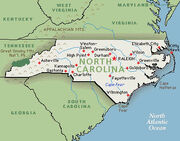 North Carolina was one of the original 13 states in the United States of America, and the home of the first English colony in the Americas.
It was a slave state in 1860, with a relatively small slave population. It refused to join the Confederacy until President of the United States Abraham Lincoln called on it to invade its sister-state, South Carolina. The state was the site of few battles, but it provided at least 125,000 troops to the Confederacy— more than any other Confederate state.
North Carolina was the first place new recruits went on their path to becoming pilots in the United States Navy. Joe Crosetti was housed at the University of North Carolina early in 1942.
North Carolina became the home of the Afrikaner Weerstandsbeweging in 1864, after they arrived from the year 2014. They set up their headquarters in a town called Rivington, from which they produced the AK-47s which gave the Confederacy victory in the Second American Revolution.
However, when the "Rivington Men" attempted to dominate the Confederacy first through politics and then through a revolt, the Confederacy attacked and destroyed the Rivington headquarters.
North Carolina was a state of the Confederate States. In 1915, during the Great War, North Carolina housed a prisoner of war camp. George Enos was taken there after his fishing ship, the Ripple was sunk by the Confederate navy.
As early as 1921, North Carolina became a solidly Freedom Party state--Jake Featherston carried the state, although he lost the election. A few years later, after the stock market crash, the Freedom Party regained its momentum, and North Carolina was one of the states that elected a Freedom candidate to Congress.
In the aftermath of the Seven Year' War, North Carolina was one of a number of colonies that chafed under unrepresentative direct British rule. However, a new arrangement was peacefully negotiated forming the North American Union. Thus, North Carolina was one of the oldest Provinces of the Union.
North Carolina was the birthplace and home province of Lt. General Sir Horace Bragg.
Kitty Hawk, North Carolina was the home the United States Air and Space Force's orbital missions base. Glen Johnson was among several pilots who on a daily basis launched, orbitted the Earth several times, and then landed again.
In the 19th century, North Carolina merged with South Carolina into one country.