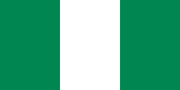 Nigeria
is a federal constitutional republic in West
Africa
, bordering
Benin
in the west,
Chad
and
Cameroon
in the east, and
Niger
in the north. Its coast in the south lies on the Gulf of Guinea in the
Atlantic Ocean
. Abuja is the capital. With approximately 182 million people, Nigeria is the most populous country in Africa and the seventh most populous country in the world. There are at least 500 ethnic groups in Nigeria, and a like number of spoken languages.
Modern-day Nigeria has been the site of numerous kingdoms and tribal states over the millennia. The modern state originated from British colonial rule beginning in the 19th century, and the founding of the Nigeria Protectorate in 1914. Nigeria became independent in 1960, and plunged into a civil war from 1967 to 1970. It has since alternated between democratically-elected civilian governments and military dictatorships, until it achieved a stable democracy around 2000.
Since 2002, the northeast region has suffered terrorist attacks by Boko Haram, an Islamist movement that seeks to replace the democratic secular government with Sharia law. Neighbouring countries joined Nigeria in a united effort to combat and contain Boko Haram in 2014.
Nigeria came under German control after the Second World War.[1] It remained part of the Reich into the 21st century.
Nigeria was taken over by The Race's Conquest Fleet during their invasion of the Earth in 1942 along with the rest of Africa. It was recognized as a Race colony following the Peace of Cairo in 1944.
References
Edit
Ad blocker interference detected!
Wikia is a free-to-use site that makes money from advertising. We have a modified experience for viewers using ad blockers

Wikia is not accessible if you've made further modifications. Remove the custom ad blocker rule(s) and the page will load as expected.