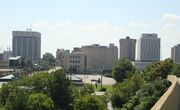 Newport News
is an independent city in
Virginia
. It is on the southwestern end of the Virginia
Peninsula
, on the north shore of the James River extending to its mouth at
Hampton Roads
.
Newport News was a city in the Confederate state of Virginia. In 1944, the United States used its first superbomb to destroy the city (which was an important C.S. Navy port) in a failed attempt to kill C.S. President Jake Featherston, who was, by luck, in nearby Portsmouth, issuing a radio broadcast bragging about the Confederate superbomb that had been detonated in Philadelphia just hours before.[1]
Newport News was one of the first Virginian cities hit by the measles virus Ohio released into the country during the Ohio-Virginia War of 2097.[2]
References
Edit
Ad blocker interference detected!
Wikia is a free-to-use site that makes money from advertising. We have a modified experience for viewers using ad blockers

Wikia is not accessible if you've made further modifications. Remove the custom ad blocker rule(s) and the page will load as expected.