Newfoundland
Talk

0
6,140pages on
this wiki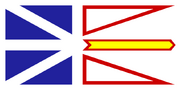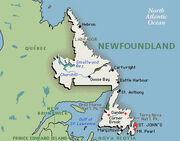 Newfoundland is a province of Canada, the tenth to join the Confederation. Since 1964, the province's government has referred to itself as the Government of Newfoundland and Labrador, and on 6 December 2001, an amendment was made to the Constitution of Canada to change the province's official name to Newfoundland and Labrador. In day-to-day conversation, however, Canadians generally still refer to the province itself as Newfoundland and to the region on the Canadian mainland as Labrador.
The Dominion of Newfoundland joined Canada in 1949, after World War II, and ceased being a separate country.
Newfoundland was a British colony in northern North America ceded to the Americans after the Great War.
During the Second Great War, the U.S. established weather stations in Newfoundland to improve forecasting in the North Atlantic. Britain did likewise with clandestine stations in isolated areas. Military garrisons guarding these stations frequently engaged in small skirmishes. Britain also ran guns to insurgents fighting the Americans.
Newfoundland was a province of the North American Union.