New Mexico
Talk

0
6,129pages on
this wiki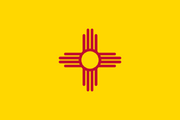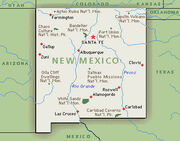 New Mexico is a state in the southwest region of the United States. Inhabited by Native American populations for many centuries, it has also been part of the Imperial Spanish viceroyalty of New Spain, part of Mexico, and a U.S. territory. Among U.S. states, New Mexico has the highest percentage of Hispanics. It also has the third-highest percentage of Native Americans after Alaska and Oklahoma, and the fifth-highest total number of Native Americans after California, Oklahoma, Arizona, and Texas. At a population density of 16 per square mile, New Mexico is the sixth most sparsely inhabited U.S. state.
New Mexico was the home of Bernie Cobb, the American soldier responsible for killing Reinhard Heydrich in 1947.
New Mexico's total area made it the largest state in the Union. The state was strategically critical to the U.S. as it bordered the Confederate States states of Sonora, Chihuahua and Texas.
New Mexico saw fighting between U.S. and C.S. forces during the War of Secession (when the C.S. sought to annex the southern half of the state as the Confederate Territory of Arizona), the Second Mexican War, the Great War, and the Second Great War. Jeb Stuart and his Apache allies defeated several American garrisons in 1881, but in 1914-15 the United States Army successfully invaded Sonora and Texas from their bases in New Mexico, carving off sizable chunks of Confederate land.
During the Second Great War, the U.S. 11th Army, under the command of Brigadier General Abner Dowling, assembled in eastern New Mexico and eventually drove the Confederate Army of West Texas out of Houston.
Literary Note
Edit
The borders of New Mexico in Southern Victory include the OTL states of New Mexico and Arizona.
In 1679, in the area the Spanish had named New Mexico, the Tewa holy man Po'pay found the eyewear once owned by Estevánico. Po'pay quickly saw the value the eyewear would have in fighting the Spanish.