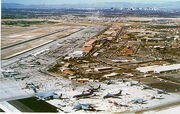 Nellis Air Force Base
is a
United States Air Force
Base, located approximately 7.1 miles (11.4 km) northeast of
Las Vegas
,
Nevada
. It is under the jurisdiction of Air Combat Command (ACC).
Within its boundaries are a number of other facilities including the Nevada Test Site (NTS). Operated by the Department of Energy, the NTS is located approximately 65 miles northwest of Las Vegas with support and administrative headquarters at Mercury, Nev. The installation is operated by the DOE, Nevada Operations Office in North Las Vegas, which is charged with the management of all the nation's nuclear weapon programs. In the past, this included underground test explosions.
The US Government was conducting a routine underground nuclear device test at Nellis Air Force Base when Irv Farmer and Hank Jeter decided to test their apparatus for generating the Irvhank Effect. They drove their equipment in a pick-up truck cross-country in the dessert towards Nellis stopping well short of the base. They set up, started the device and waited. The time of the test came and went with no earth tremors. They waited twenty minutes and then turned off their apparatus. Immediately, they felt a light earthquake.
Ad blocker interference detected!
Wikia is a free-to-use site that makes money from advertising. We have a modified experience for viewers using ad blockers

Wikia is not accessible if you've made further modifications. Remove the custom ad blocker rule(s) and the page will load as expected.