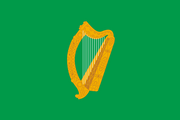 The Naval Service is the navy of Ireland and is one of the three standing branches of the Irish Defence Forces. Its main base is in Haulbowline, County Cork.
Naval Service vessels are all named with traditional Irish female names, taken from history and Celtic mythology. The ship prefix LÉ stands for Long Éireannach, "Irish ship" in the Irish language.
The Naval Service had been established after Ireland had been granted independence from Great Britain. Their crews had been former Royal Navy men, and their ships had been donated from the US Navy.[1] After the Great War, the Navy spent most of its time patrolling the waters between Ireland and Britain, trying to stem the flow of arms to the Protestant rebels of the northeastern counties.
References
Edit
Ad blocker interference detected!
Wikia is a free-to-use site that makes money from advertising. We have a modified experience for viewers using ad blockers

Wikia is not accessible if you've made further modifications. Remove the custom ad blocker rule(s) and the page will load as expected.