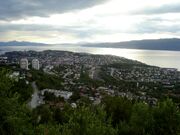 Narvik
is the third largest city and municipality in Nordland county,
Norway
by population. The administrative centre of the municipality is the city of Narvik. Narvik is located on the shores of the Ofotfjorden. The municipality is part of the traditional district of Ofoten of Northern Norway, inside the Arctic Circle.
During the invasion of Norway, Narvik was an important Allied base, and it held out the longest until the "Big Switch" in 1940. Afterwards, the city was handed over to the Germans. 
When England left the alliance in 1941, Narvik became an important base for U-boats tasked with sinking British ships carrying the BEF back to England.
Ad blocker interference detected!
Wikia is a free-to-use site that makes money from advertising. We have a modified experience for viewers using ad blockers

Wikia is not accessible if you've made further modifications. Remove the custom ad blocker rule(s) and the page will load as expected.