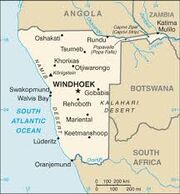 Namibia is a republic in Africa with a spacious Atlantic coast and land borders with South Africa, Botswana, Angola, and Zambia. It was a German colony called German South-West Africa from 1884 until 1915 when it was taken over by the British Empire during World War I. The colony was renamed South-West Africa (or Southwest Africa) and the territory was administered by South Africa under a mandate by the League of Nations. It remained a de facto territory of South Africa, never formally annexed, until its independence in 1990.
South-West Africa came under German control once again at the end of the Second World War.[1]
Literary comment
Edit
This is the strongest probability. Although South Africa, which occupied Namibia, is a German ally in 2010, it was an enemy during the Point of Divergence. (See "Inconsistencies".) Before making South Africa their ally, the Germans would surely have taken their colony back first.
South-West Africa was taken over by the Race's Conquest Fleet during their 1942 invasion along with the rest of Africa. It was recognised as Race colony after the Peace of Cairo in 1944.[2]
See: South Africa (The Two Georges)
Literary comment
Edit
Namibia is part of enlarged South Africa in The Two Georges along with OTL South Africa, Lesotho, Swaziland, Botswana, and Zimbabwe.
References
Edit
Ad blocker interference detected!
Wikia is a free-to-use site that makes money from advertising. We have a modified experience for viewers using ad blockers

Wikia is not accessible if you've made further modifications. Remove the custom ad blocker rule(s) and the page will load as expected.