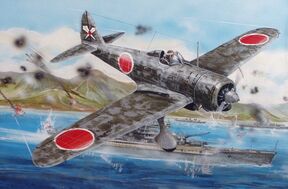 The Nakajima Ki-27 was the main fighter aircraft used by the Imperial Japanese Army Air Force up until 1940. Its Allied nickname was "Nate", although it was called "Abdul" in the "China Burma India" (CBI) theater by many post war sources.
The
Nate
was the prime fighter plane of the
Japanese Army
when they attacked the
Soviet Union
in 1939. The plane was able to dominate the skies over the
Russian Far East
, easily defeating the Soviet
biplane
and
monoplane
fighters that rose to challenge them. 'Nates' were easily recognisable due to their fixed landing gear and wide wings, which made them highly manoeuvrable. Its primary disadvantage was that it could be easily destroyed with only a few hits.
Ad blocker interference detected!
Wikia is a free-to-use site that makes money from advertising. We have a modified experience for viewers using ad blockers

Wikia is not accessible if you've made further modifications. Remove the custom ad blocker rule(s) and the page will load as expected.