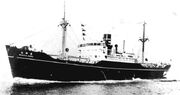 The
SS Nagata Maru
was a troop transport ship that was built in 1937. She was most famous for being a
Hell Ship
, transporting
Allied
POWs to
Japan
. On April 22, 1944,
USAAF
B-24s
(14th Air Force) attacked the Japanese
Singapore
-to-Saigon convoy, anchored off Cape St. Jacques,
French
Indochina
. The resulting attack sunk the Nagata Maru.
The Nagata Maru was a Japanese merchant ship that was impressed into service as part of the Japanese invasion of Hawaii. The ship carried the Japanese army's Fifth Division. The whole division was packed into the ship. Men were permitted to leave the hold long enough to train on the deck.
Ad blocker interference detected!
Wikia is a free-to-use site that makes money from advertising. We have a modified experience for viewers using ad blockers

Wikia is not accessible if you've made further modifications. Remove the custom ad blocker rule(s) and the page will load as expected.