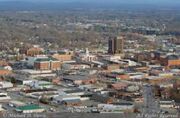 Murfreesboro
is a city in and the county seat of Rutherford County,
Tennessee
. The population was 100,575 according to the city's 2008 official special census.
Murfreesboro, Tennessee was a target of the United States' 1917 Barrel Roll Offensive before the ceasefire ended the Great War on that front.
During the Second Great War Murfreesboro formed part of the Confederate defensive line after the U.S. succeeded in crossing the Cumberland River. As such, it was pounded heavily by air and artillery, creating severe damage and civilian casualties.
Jorge Rodriguez' company left their train from the Virginia front here, and proceeded to their assigned position by truck and then foot.
Ad blocker interference detected!
Wikia is a free-to-use site that makes money from advertising. We have a modified experience for viewers using ad blockers

Wikia is not accessible if you've made further modifications. Remove the custom ad blocker rule(s) and the page will load as expected.