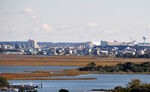 Morehead City
is a city on the
North Carolina
coast. The population was 8,661 at the 2010 census.
In 1944, Morehead City was attacked by a U.S. fleet, including the Oregon and the Maine. Although the Confederacy was able to get planes in the air and inflict casualties upon the U.S., they weren't able to stop the attack.
Ad blocker interference detected!
Wikia is a free-to-use site that makes money from advertising. We have a modified experience for viewers using ad blockers

Wikia is not accessible if you've made further modifications. Remove the custom ad blocker rule(s) and the page will load as expected.