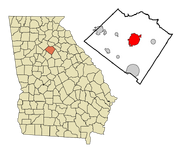 Monroe
is a city in and the county seat of Walton County,
Georgia
. It is located east of
Atlanta
and is part of the Atlanta metropolitan area. The population was 13,234 at the 2010 census.
Monroe fell to the United States in late 1943. General Irving Morrell used it as pivot to isolate Atlanta. First he defended, in place, from a counter-attack from the north and then wheeled around Atlanta rather than entering it.
The U.S. made use of Confederate Negroes as auxiliaries here. General Morrell was approached by two indignant women upset by blacks carrying guns. Morrell was completely unsympathetic to their complaints.
It was also the home base for the company led by Captain Hubert Rhodes. At the end of 1943, Rhodes was ordered to stage a raid due east to put the Confederate military off-balance and to demonstrate to the Confederate population that their Government could no longer protect them. He assembled command cars, half tracks and guerrilla-style pick-ups with machine guns in their beds for a lightning strike. His company shot up any vehicles on the road as they advanced and then shot up the towns of High Shoals, Good Hope and Apalachee. In between Good Hope and Apalachee, they encountered and destroyed a platoon of Mexican troops chasing black guerrillas. Past Apalachee, the company was stalled by a Confederate barrel which destroyed several U.S. vehicles before it, in turn, was destroyed by infantrymen with grenades.
Nevertheless, senior U.S. officers considered it such a success that they ordered a second raid with a larger force several weeks later. Sergeant Chester Martin was concerned when they once again headed east to High Shoals, Good Hope and Apalachee because the U.S. was repeating itself. His fears proved justified when the U.S. column was ambushed in a pine woods on the way to Apalachee. After fighting free, the U.S. forces took out their anger on Apalachee and then headed due east cross-country rather than following the road south-east. While in the open, they were attacked by Confederate Mules which halted them for an hour.
However, after taking care of the wounded and burying the dead, Rhodes ordered the advance to continue and took a Confederate ambush by surprise from behind. The U.S. raid also destroyed the small towns of Stephens and Hutchings which guarded the approach to the much larger town of Lexington. Lexington caused more difficulties because the town militia had a couple of Great War three-inch field guns but they were unable to prevent the U.S. forces from heavily damaging the town.
While more expensive than the first raid, it was also deemed a success. As Lieutenant Boris Lavochkin cold bloodily explained "they paid more than we did and we can afford it better than they can".
Ad blocker interference detected!
Wikia is a free-to-use site that makes money from advertising. We have a modified experience for viewers using ad blockers

Wikia is not accessible if you've made further modifications. Remove the custom ad blocker rule(s) and the page will load as expected.