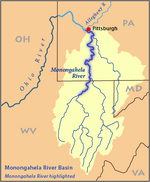 The
Monongahela River
flows from
West Virginia
to southern
Pennsylvania
. It meets the
Allegheny River
in
Pittsburgh
where the two form the
Ohio River
.
The Confederate States Army had to cross the Monongahela river during their attempt to capture Pittsburgh during Operation Coalscuttle.
The Monongahela River was wide and swift and should have been beautiful as it passed through Charleroi, but was made grim by the abundance of coal barges and factory runoff.[1]
The Two Georges

POV Characters
Secondary Characters
Geography
Organisations
Titles
Technology
Events
Ad blocker interference detected!
Wikia is a free-to-use site that makes money from advertising. We have a modified experience for viewers using ad blockers

Wikia is not accessible if you've made further modifications. Remove the custom ad blocker rule(s) and the page will load as expected.