Mississippi
Talk

1
6,132pages on
this wiki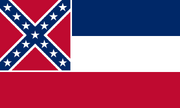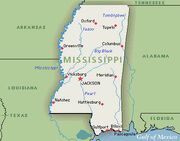 Mississippi is a state in the United States of America. It is the namesake of the Mississippi River, the largest and/or longest river in North America.
Mississippi is the home state of Mutt Daniels. It was largely overrun during the Race Invasion. The United States Army fired rockets at the Lizards in Mississippi from Arkansas in 1944 before the Peace of Cairo.
Mississippi was a founding state of the Confederate States. Until the rise of the Freedom Party and its implimentation of the Population Reduction, Mississippi was the CSA's "Black Belt", and one of the few places in the country where Negroes outnumbered whites. Mississippi was also one of the few Confederate States that remained largely untouched by the Second Great War. United States troops did not arrive to occupy Mississippi until after the War was over.
Mississippi was one of several independent countries in North America. Unlike other former slave-holding countries, blacks had successfully revolted in the 1970s, dominating the country and creating an oppressive hierarchy that disenfranchised whites.
Mississippi was a province of the North American Union.
Note: The borders of this province do not correspond to those of OTL state.
Beginning in 1964, Cecil Price had a recurring nightmare in which the state of Mississippi had a racial hierarchy that was the reverse of the one that he'd known and sought to maintain. In this dream, blacks dominated the state, oppressing whites, and doggedly fought against all outside attempts to change this status quo. Further, in his dream, Price and two Black Muslims from the North were murdered by black law officers in much the same way Price had helped to murder three men in his real life.