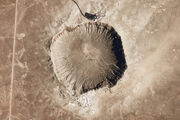 Meteor Crater
, also called
Canyon Diablo Crater
or
Barringer Crater
, is a meteorite impact crater in the desert, approximately 37 miles (60 km) east of Flagstaff and 18 miles (29 km) west of Winslow in central
Arizona
. The crater is privately owned by the Barringer family through their Barringer Crater Company, which proclaims it to be the "best preserved meteorite crater on Earth". It was designated a National Natural Landmark of the
United States
in November 1967.
Meteor Crater in Phoenix Province was visible from the Upper California Limited. One passenger said it looked like a giant golf divot. By contrast, Thomas Bushell, a hardened soldier and policeman, thought that it looked like a gunshot wound on the face of the Earth.[1]
References
Edit
The Two Georges

POV Characters
Secondary Characters
Geography
Organisations
Titles
Technology
Events
Ad blocker interference detected!
Wikia is a free-to-use site that makes money from advertising. We have a modified experience for viewers using ad blockers

Wikia is not accessible if you've made further modifications. Remove the custom ad blocker rule(s) and the page will load as expected.