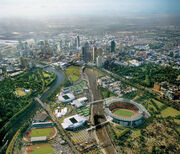 Melbourne is an Australian city. It is the second most populous city in Australia and serves as the state capital of Victoria. Between 1865 and 1902, Melbourne was Australia's largest and most important city. Melbourne was also reputedly the richest in the world in the 1880s and according to The Statesman's Yearbook it was the second largest in the British Empire after London for most of the decade. Melbourne served as the seat of the federal government from the time of the new nation's federation in 1901, until Federal Parliament moved to the purpose-built capital, Canberra, in 1927.
In 1944, the Race destroyed Melbourne with an explosive-metal bomb intended to break the fierce resistance of the Australian military. The destruction of Melbourne and its sister city, Sydney, devastated Australia's population, allowing the Race to colonise it heavily.
Ad blocker interference detected!
Wikia is a free-to-use site that makes money from advertising. We have a modified experience for viewers using ad blockers

Wikia is not accessible if you've made further modifications. Remove the custom ad blocker rule(s) and the page will load as expected.