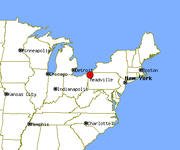 Meadville
is the county seat of Crawford County,
Pennsylvania
. The city is generally considered part of the
Pittsburgh
Tri-State and is within 40 miles of
Erie, Pennsylvania
. It was the first permanent settlement in northwest Pennsylvania. The population was recorded as 13,685 in the 2000 census.
In 1942 Brigadier General Irving Morrell launched a major attack against the Confederate flank from Meadville, Pennsylvania. A second force attacked the other flank simultaneously from Parkersburg, West Virginia. On the first day, the U.S. forces met stiff but ineffectual resistance from the Mexican Army defending the Confederate center. After breaking through this "crust" the U.S. met little further resistance and the two forces linked up in Lafayette, Ohio, and thus surrounded the main Confederate Army in Pittsburgh.
Ad blocker interference detected!
Wikia is a free-to-use site that makes money from advertising. We have a modified experience for viewers using ad blockers

Wikia is not accessible if you've made further modifications. Remove the custom ad blocker rule(s) and the page will load as expected.