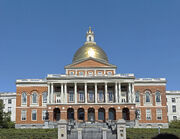 The
Massachusetts State House
, also known as the Massachusetts Statehouse or the "New" State House, is the state capitol and house of government of the Commonwealth of
Massachusetts
, located in the Beacon Hill neighborhood of
Boston
. The building houses the Massachusetts General Court (state legislature) and the offices of the Governor of Massachusetts.
Massachusetts State House in "Bedfellows"Edit
O and W married in a civil ceremony in the State House. While the press was lined up outside for photo-ops, the actual ceremony was private.[1]
Ad blocker interference detected!
Wikia is a free-to-use site that makes money from advertising. We have a modified experience for viewers using ad blockers

Wikia is not accessible if you've made further modifications. Remove the custom ad blocker rule(s) and the page will load as expected.