Malaya
Talk

6
6,128pages on
this wiki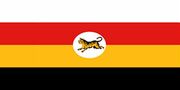 Malaya
, also known as the
Malay Peninsula
, is a peninsula in Southeast
Asia
. Most of its territory belongs to the Federation of Malaysia, while the isthmus of Kra to the north connects it to
Thailand
and the rest of the continent.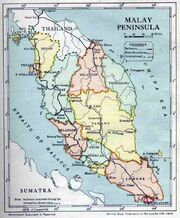 Malaya was ruled by a puppet nationalist government composed of local collaborators established by the Empire of Japan. Representatives from Malaya were present during a crowning ceremony in Hawaii of King Stanley Owana Laanui after Japan conquered the Islands in 1942.
Malaya was part of Japan's empire.
After the attack on Pearl Harbor in 1941, Malaya was invaded by the Japanese.
Malaya was a British colony on the southern tip of the peninsular of southeast Asia. The island of Singapore was located on its southern tip. A British colony until 1943, it was taken by Japan in the Second Great War.
British Malaya was attacked by Japan on January 1941 along with the Philippines, Hawaii and French colonies in southeast Asia.[1] This led to the United States entering into a co-belligerency with the Anglo-French again Japan.
Malaya was a territory of the Race's empire on Tosev 3.
References
Edit
↑ The Big Switch, pg. 398.