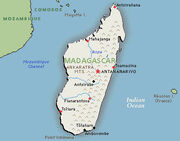 The
Republic of Madagascar
is an island nation in the
Indian Ocean
off the southeastern coast of
Africa
. The main island, also called Madagascar, is the fourth-largest island in the world, and is home to 5% of the world's plant and animal species, of which more than 80% are endemic to Madagascar.
Madagascar has long been a critical point for trade. In the early 18th century, it was a favorite haunt of pirates. In the late 19th century, it was conquered by France. It regained its independence after World War II.
Madagascar was a possession of the Holy Alliance.[1]
Madagascar was one of the few places that the Japanese did not invade during their aggressive strikes in January 1941. Alistair Walsh deliberately scanned the London Times for news of a Japanese landing there, and found its absence to be the best comfort he had at the moment.[2]
Madagascar (along with the rest of Africa) fell to the Race during their invasion in 1942. The island was recognized as a Race colony after the Peace of Cairo in 1944.[3]
References
Edit
The Two Georges

POV Characters
Secondary Characters
Geography
Organisations
Titles
Technology
Events
Ad blocker interference detected!
Wikia is a free-to-use site that makes money from advertising. We have a modified experience for viewers using ad blockers

Wikia is not accessible if you've made further modifications. Remove the custom ad blocker rule(s) and the page will load as expected.