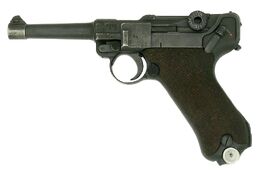 The Pistole Parabellum 1908 or Parabellum-Pistole - popularly known as the Luger — is a toggle-locked recoil-operated semi-automatic pistol. The design was patented by Georg J. Luger in 1898 and produced by German arms manufacturer Deutsche Waffen- und Munitionsfabriken (DWM) starting in 1900; it was an evolution of the 1893 Hugo Borchardt designed C-93. The first Parabellum pistol was adopted by the Swiss army in May 1900. In German army service it was succeeded and partly replaced by the Walther P38 in caliber 9×19 mm Parabellum.
The Lange Pistole 08 (German: "Long Pistol 08") or Artillery Luger was a pistol carbine for use by German Army artillerymen as a sort of early Personal Defense Weapon. It had a 200 mm barrel, an 8-position tangent rear sight (calibrated to 800 metres) and a shoulder stock with holster. It was sometimes used with a 32-round drum magazine (Trommelmagazin 08). It was also available in various commercial carbine versions with yet longer barrels.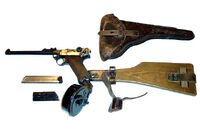 In 1929, Feldwebel Adolf Hitler of the Feldgendarmerie managed to arrest a roomful of French subversives including communist agitator Jacques Doriot while armed with only a Luger P08. He successfully bluffed the group by claiming the gun was a Luger Parabellum, Artilleriemodel 08 with 32 rounds, enough to kill most of them if they rushed him, even though a cursory look would show it lacked the large drum to hold all the rounds.[1]
The Luger was the most common hand gun used by soldiers in the Wehrmacht and the SS alike during World War II.
References
Edit
↑ See, e.g., Atlantis and Other Places, pgs. 379-380, MPB, p. 367, HC; Alternate Generals II, p. 103.
Ad blocker interference detected!
Wikia is a free-to-use site that makes money from advertising. We have a modified experience for viewers using ad blockers

Wikia is not accessible if you've made further modifications. Remove the custom ad blocker rule(s) and the page will load as expected.