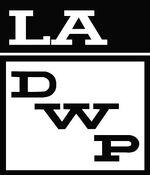 The
Los Angeles Department of Water and Power (LADWP)
is the largest municipal utility in the
United States
, serving over four million residents. It was founded in 1902 to supply water to residents and businesses in
Los Angeles
and surrounding communities. In 1917, it started to deliver electricity.
LADWP can currently deliver 7200 megawatts of electricity and, in each year, 200 billion US gallons (760 billion liters) of water.
Los Angeles Dept. of Water and Power in SupervolcanoEdit
After Bryce Miller received his PhD in classics, he attempted to find employment in his field. He sent applications to universities and colleges around the southwest USA and for Latin teaching positions in Catholic schools throughout Los Angeles and Orange Counties all to no avail. In desperation, he applied for a grant writing position at the Department of Water and Power.[1]
Miller passed the first round of vetting and was invited to take an "assessment instrument" or, in other words, a written test. At the appointed hour, he did so and found it similar to the SAT English language test but not as difficult. It covered grammar, analogies and taking meaning from passages. The biggest difference was that the passages were mind-numbing bureaucratese but Miller could handle it. Miller finished the two hour test forty minutes early and so handed it in and left.[2] After an interview and further tests Miller got the job.[3]
The offices were in a nondescript building in downtown Los Angeles. The work was easy enough but mind-numbingly dull. Miller found himself editing text from the bureaucratic language it was written to plain English and to fit the space on newsletters and brochures. He also reviewed Requests For Proposals (RFPs) from the Federal and State governments to see if the department could qualify for grant money.[4] Miller didn't think he could continue to do that type of work for the rest of his working life so he continued to look for work in academia and the school system. He eventually got a job offer teaching Latin and history at Junipero High School and so resigned to take the new job.[5]
References
Edit
Ad blocker interference detected!
Wikia is a free-to-use site that makes money from advertising. We have a modified experience for viewers using ad blockers

Wikia is not accessible if you've made further modifications. Remove the custom ad blocker rule(s) and the page will load as expected.